Our Drop In Centre is open to all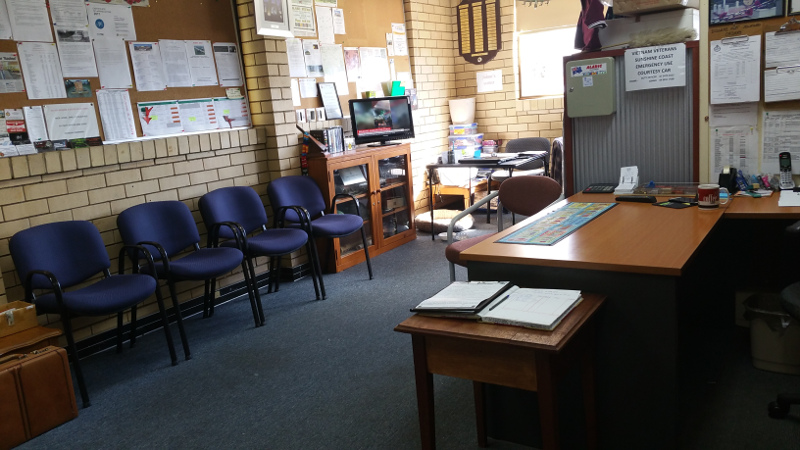 We welcome all veterans of wars our Australian troops have fought in. We are here to provide a place for you to drop in to relax over a coffee and a chat.
Our advocates provide counseling and advice on services and benefits available to veterans.
The Drop in Centre is located upstairs in the Cotton Tree Library Complex Beach Pde Cotton Tree.
Disabled access is also available through a lift in the library. Just see someone within the library and inform them that you need help. They are happy to oblige.
Mission: To assist all veterans, dependants and their descendants, in all matters relating to their health, welfare and wellbeing. 
Our Drop in Centre has had a facelift over the last few months and has become a relaxing place to either pass time before an appointment with one of our Welfare Advocates or to just "drop in" and have a coffee or tea and a chat with fellow veterans. Comfortable leather chairs, tea, coffee and soft drink facilities and are supplied for your enjoyment.
Also there is a substantial library where members can sign out books or videos. Merchandise can be purchased in the Drop in Centre with a large and ever growing range. Duty officers are on duty to help with sales and a friendly chat.
If you find yourself with free time why not put your name down for Duty Officer. You only have to do a 4 hour shift on any day that is vacant. And if you have never done it before you will be thoroughly trained by Norm Cooper in all aspects of the running of the drop in centre.
During the last 10 years of its operation the drop in centre has seen over 46,000 visitors. Come on in and join us!
Office Hours:
Monday to Thursday — 9 am to 4 pm Friday — 9 am to 1 pm Friday Ladies Group — 1 pm to 4 pm
————————————————-
DISABLED ACCESS TO THE DROP IN CENTRE
For those in our ranks with disabilities that prevents them using the stairs to the Drop-in-Centre, there is a lift available through the Council Library next door. You will have to ask one of the Library staff to accompany you, so the top floor access door can be unlocked. To leave, just have the Duty Officer phone the library on 54958915 and they will again unlock the access door….
——————————————————–
————————————————-
Website and hosting proudly donated by AcesWebs.com — Website Disclaimer
——————————————————–