CREDIT WHERE CREDIT IS DUE –7 Successive Prime Ministers and 10 Ministers in the last 15 years!!!
When we look at the veteran space as it is today, who is responsible for the disaster that the veterans' space has become – Suicide, Homelessness, Poverty, Inability to get basic Medical / Psychological Services and Continuity of Care to mention just a few.

The current DVA management have inherited a department stripped of assets with out of date incompatible IT systems that appear to be a black hole for hundreds of millions of tax-payer funded IT upgrades that sadly seem to benefit the Department of Human Services rather than DVA. The architects of this disaster are the two previous DVA secretaries Ian Campbell and Simon Lewis with significant input from Shane Carmody as the Deputy Secretary under both administrations, compounded by the instability of 7 successive Prime Ministers  and 10 Ministers in the last 15 years since Danna Vale stated that "no veteran would be disadvantaged by the MRCA".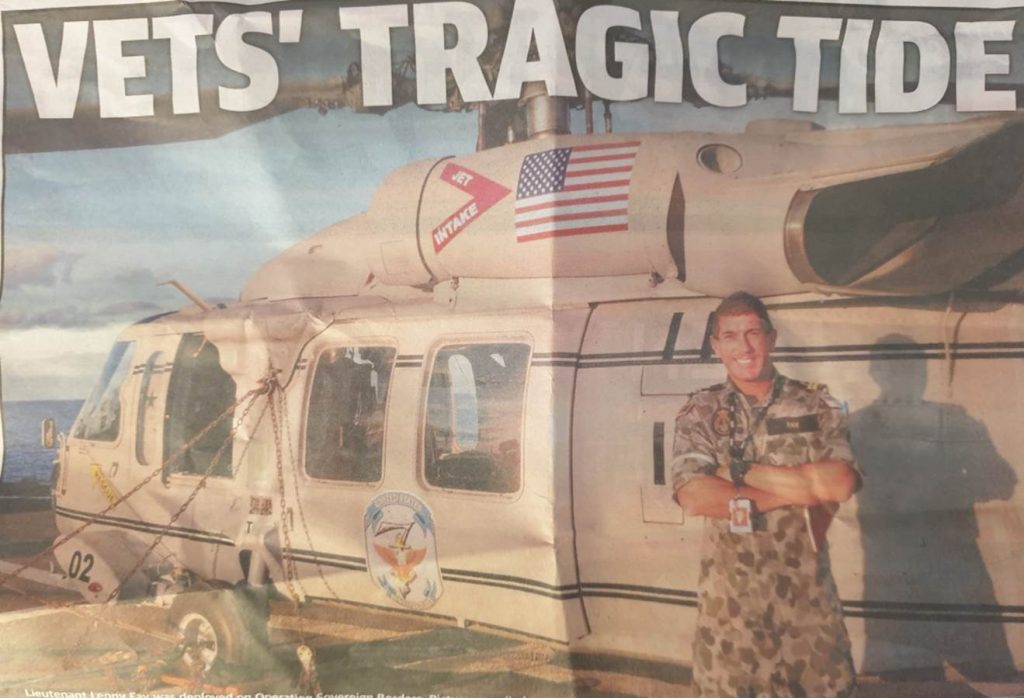 35 Danna Vale Liberal 26 November 2001 26 October 2004 2 years, 335 days
36 De-Anne Kelly Nationals 26 October 2004 27 January 2006 1 year, 93 days
37 Bruce Billson Liberal 27 January 2006 3 December 2007 1 year, 310 days
38 Alan Griffin Labor Rudd 3 December 2007-24 June 2010 2 years, 284 days Gillard 24 June 2010-13 September 2010
39 Warren Snowdon 13 September 2010-1 July 2013 3 years, 5 days Rudd 1 July 2013-18 September 2013
40 Michael Ronaldson Liberal Abbott-18 September 2013-15 September 2015 2 years, 3 days Turnbull 15 September 2015-21 September 2015
41 Stuart Robert Liberal National 21 September 2015-18 February 2016 3 years, 288 days
42 Dan Tehan Liberal 18 February 2016 20 December 2017 1 year, 305 days
43 Michael McCormack Nationals 20 December 2017-5 March 2018 68 days
44 Darren Chester 5 March 2018 Incumbent 488 days
Alongside the Department heads and Government our ESO heads must also accept part of the responsibility as they have amassed great sums of money from both government and the Australian public and this is benefiting Veterans how?
From Corporate Affairs Victoria (CAV) Web Page;
There are now more than 600 patriotic funds in Victoria, administered by legally appointed trustees. These include:
the Returned and Services League (RSL)
branches of Legacy
the Vietnam Veterans Association of Australia (Victorian branch).
Patriotic fund assets total more than $640 million and are collected in many ways, including:
fundraising activities. For example, the annual Legacy Appeal, and the sale of badges and poppies to commemorate ANZAC Day, Remembrance Day, Vietnam Veterans Day and other Australian military milestones, public and private donations. This includes donations to acknowledge serving members' efforts in Australia's modern military and peacekeeping activities.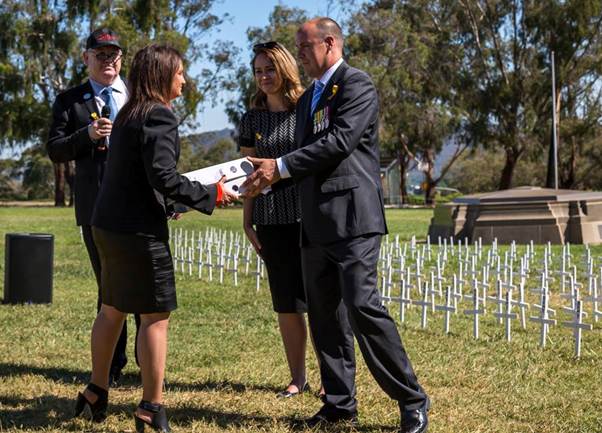 We in the veteran community must take more responsibility in managing some aspects of veterans' care such as welfare, accommodation, vocational assistance and other important infrastructure projects such as advocacy, welfare centres and training. Which cater for the changing needs of our veteran community as well as the core values of all ESO's. We must be more robust in our representation and remove the golden handcuffs of grant and privilege and replace them with a coal face shovel and resolve.
The system must be simplified for all concerned, trying to band aid fix a conduit between 3 conflicting legislations based on a faint hope that an IT miracle will occur and overcome years of reduction and neglect is not a rational solution. 100's of millions of dollars have been spent on the DVA IT issue and where are we?, TTP (time taken to process) is now "how long is a piece of string" major delays exist in Liability, Permanent Impairment under all 3 legislations.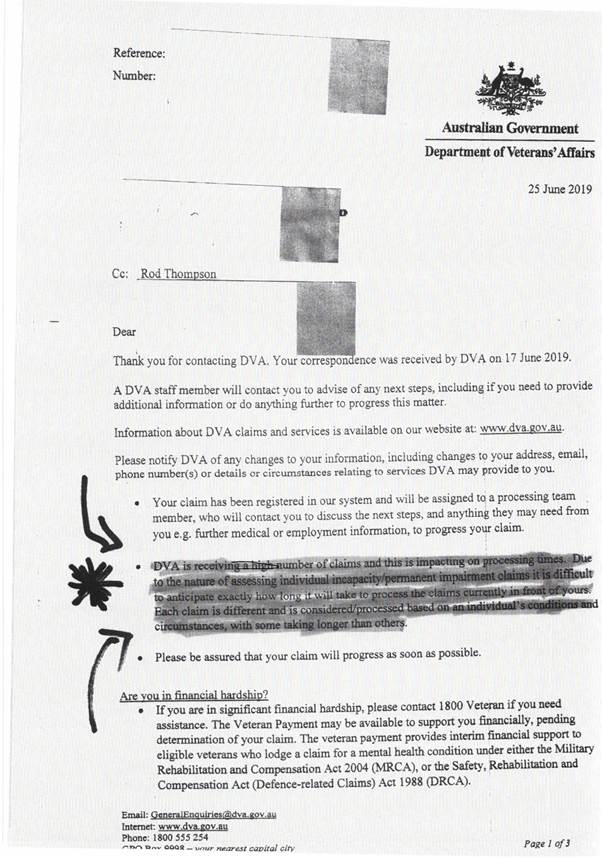 100 million worth of IT has not helped reduce TTP by one day, we need more bums on seats and those bums could quite reasonably be veterans' we see DVA and Government asking private enterprise to employ veterans', so why not the APS specifically the DVA who have demonstrated a need for more qualified and motivated staff. How more qualified and motivated can you get with veterans who have lived experience with the system and are undertaking vocational rehabilitation. DVA could solve 2 issues with little or no cost;
1.    How to quickly increase staff levels with motivated and experienced staff?
2.    How to ensure that veterans are provided with vocational opportunity within the APS with an employer that has support mechanisms for employees with disabilities that are far greater than those of the private sector.
Filling immediate DVA staffing short falls with interested veterans on vocational rehabilitation plans would also be close to cost neutral as those veterans will have an entitlement to incapacity payments under either DRCA or MRCA rehabilitation entitlement (VVRS VEA). This would be nothing out of the ordinary regarding policy as the Secretary and a number of senior executive staff are veterans who are also clients of DVA, who co-incidentally are also employed by DVA.
Just a Thought!
Hopefully DVA will stop waiting for the IT fairy to arrive and make a human solution to this ongoing problem regarding TTP and IT. The Productivity Commission has placed a very thorough, but confusing final report on the table, in most parts at first glance the report accurately reflects the core problems with DVA. But under further scrutiny aspects of the Productivity Commissions core values overshadow the Beneficial Nature in which Veterans Legislation is supposedly viewed and skew this report with the view of a Bureaucratic Bean Counter finding ways to make DVA more productive not necessarily more veteran friendly and certainly not "beneficial". I find the productivity commissions insistence on a "Workers Compensation Model" for veterans. MRCA and DRCA are Workers Compensation Model Legislation and they are the Veterans' who are being failed by the system, VEA Veterans on the most part, are satisfied with the Compensation Package provided by the VEA. This is not to say that many aspects of the VEA does not need updating and indexing to reflect a more current picture regarding rates of pension and availability of quality medical care for accepted conditions under the DVA card system.
The graph above does provide an insight into which legislation appears to correlate with a spike in suicide with in the veteran community and cannot be ignored as a contributing factor. Workers Compensation by its own nature is adversarial, not beneficial and the two cannot functionally co-exist. So simply, the PC seems to have not taken into consideration the significant bureaucratic hurdles and complications sewn into workers compensation legislation models such as MRCA and DRCA which are the main factors in both the Reports into suicides of Geoffery Gregg (2007) and Jesse Bird (2017) some ten years apart and along with the 2019 report of the PC all make very similar recommendations 10 Ministers and 7 Prime Ministers have read those reports and been made aware of the problems and yet here we are treating this as if it is a new problem.
Every veteran is a commodity and a statistic to move around the Finance chess board by faceless bureaucrats templating each veteran into a cost category, forging projected savings on the back of the morbidity of demographics of the veteran community with our remaining WW2 veterans and their widows set pass on over the next few years Governments have been saving 100's of millions a year back to consolidated revenue e.g.;   225,421 (2017 total DVA clients)- 202,173 (2019 total DVA clients) = 23,248 veterans who have ceased to be DVA clients over the last 2 years, mostly by way of old age and natural attrition, if 20,000 of those held a gold card as most would be WW2 veterans the projected savings to government is $24,000 (DVA stated Gold Card value) x 20,000 (estimated number of Gold cards held by deceased veterans over the last two years) = $480,000,000 returned to government over the last 2 years simply based on the morbidity of our WW2, Korea and now Vietnam veterans. So please Minister number 10 since 2004 do not tell us you don't have the money to fix this mess.
Below are the most recent figures and statistics from the DVA web Page;
Net Total Persons Receiving Income Support or a Compensation
Pension From The Department of Veterans' Affairs – March 2019
Veteran Service Pensioners 49,737
Partner/Widow(er) Service Pensioners 45,890
Total Service Pensioners 95,627
Income Support Supplement recipients 39,502
Social Security Age Pensioners 3,314
Commonwealth Seniors' Health Card holders 4,174
Disability Pensioners receiving Income Support(1) 37,596
Disability Pensioners not receiving Income Support 46,291
Total Disability Pensioners 83,887
War Widow(er) Pensioners receiving Income Support(1) 39,494
War Widow(er) Pensioners not receiving Income Support 15,803
Total War Widow(er) Pensioners 55,297
Orphan Pensioners 143
2019 Net Total(2) 202,173 *2017 Net Total(2) 225,421
(1) 'Income Support' includes Service Pension, Age Pension or Income Support Supplement.
(2) Components do not add to total due to overlaps.
Table 05: Veteran Service Pensioners by Conflict – March 2019
Second World War 5 398
Korea and Malayan Forces 2 631
Far East Strategic Reserve 2 208
Vietnam 29 444
British Commonwealth 2 442
Allied Veterans 5 824
British Commonwealth & Allied Mariners 112
Australian Mariners 124
Gulf War 107
East Timor 653
Other Post 1972 Conflicts 722
Unknown 72
All Wars and Conflicts 49 737
Summary
Over two years ago a call was launched for a Royal Commission and a petition was presented to Government at Parliament House in Canberra that petition contained just over 11,000 signatures today the petition taken over by Julie Anne Finney, to date has 236,259 signatures and is still growing. It is my sincere hope that we do not need a Royal Commission but the current efforts by government to address the long term problems with the DVA are less than encouraging.
Since Government and DVA were handed the report into the death of Geoffery Gregg in 2007 the same systemic problems have continued to impact on the delivery of key services to the veteran community by DVA and some serious malpractice from DVA senior staff, so clearly defined in the Rollins matter referred to most recently by Derryn Hinch in both Parliament and the media.
Things to be aware of regarding some aspects of the Productivity Commissions Report.
1. There is no support from Defence, DVA or the ESO Community for DVA to be closed down.
2. A worker's compensation Model for Legislation will just bring more of the same problems we have now. Back to the Future.
3. The Productivity Commission by the nature of its name;
productivity
/prɒdʌkˈtɪvɪti/ noun
the state or quality of being productive.
"the long-term productivity of land"
the effectiveness of productive effort, especially in industry, as measured in terms of the rate of output per unit of input.
"workers have boosted productivity by 30 per cent"
synonyms:   efficiency, production, productiveness, work rate, output, yield, capacity, productive capacity
"workers have boosted productivity by 30 per cent"
The PC has no interest in a better outcome for veterans if you note the word "BENIFICIAL" appears nowhere in relation to the meaning of productivity, the goal of the PC is to increase the productivity of DVA which is primarily ensuring that is done in a fiscally responsible way, which does not account for an entity that is supposed to apply a beneficial approach, which may well contradict the ethos of productivity.
4. A number of the issues highlighted by the PC are now being addressed by DVA
5. The PC report must be read in conjunction with the myriad of reports furnished to Government and DVA since 2007 some 12 years of identifying the same problems with culture, legislation and policy.
Immediate areas of concern.
a. Time taken to Process Claims (TTP) Staffing v IT
b. Quality of, and over dependence on. Compensation Medical Advisors (CMA) in the decision-making process.
c. The lack of progress on Legislative Reform
d. The absence of Government funding for core reforms.
e. The continued reliance on contracted law firms perpetuating a multimillion dollar legal industry around DVA.
f. The failure of DVA /DHS to provide BEST Grants on time to those organisations dependant on that funding to provide vital services to the veteran community.
g. The failure to address a number of core issues such as the Veterans' Evidence Standard, Offsetting, Indexation of pensions and entitlements, remuneration of treating medical and allied health professionals, Provision of Gold Card entitlement to DRCA Clients and a commitment that no further entitlements will be removed or detrimentally altered. That DVA and government will honour the compensation packages already awarded to clients under the VEA and MRCA/DRCA by providing services in a timely and beneficial manner in accordance with law.
After many reports and enquiries over the last 10 or more years it is clear that DVA has detreated to an extent that it is currently "Not Fit For Purpose", that of itself should point us toward a Royal Commission. There is no quick fix from any perspective but the key to moving forward is to immediately start addressing the core issues outlined above, providing direct funding to groups providing services on the coal face to ensure continuity of assistance be it welfare, advocacy or other associated services. The Minister needs to be honest with the Ex-service Community and the wider Australian Public regarding the 100's of millions spent on IT upgrades and when if ever will it be seen to be providing a beneficial service to veterans. In closing I would like to quote Maj General Craig Orme, Deputy President of the MRCC and part of DVA's Senior Executive; "General Orme is now settling into his second year as the deputy president of the Department of Veterans' Affair's Repatriation Commission. He said soldiers were a breed apart; the one group in the community who can be ordered to kill or be killed, and said his new role was an extension of the old.
"You've made a very special commitment to society and society, in turn, has made a commitment to you," he said. "That is why veterans receive special consideration beyond that given to other citizens."