This shocking headline shows it's time to overhaul the system to ensure that returning veterans are given the support and counseling they need.
~~ by: Ian McPhedran national defence writer
News Corp Australia, October 17, 2015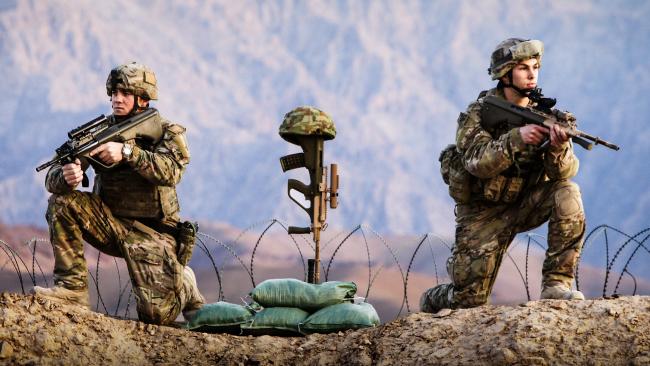 Secret internal defence documents obtained by News Corp Australia show a disturbing jump in the number of self-harm incidents and suicides in the military with the Australian Veterans Suicide Register recording more than double the number of deaths between 2012 when there were 10 and the 25 so far this year.
A high-level source said that top defence brass didn't even know that the self-harm list existed.
"When an ADF member is identified as being at risk of suicide, self-harm or harm to others, Defence mental health professionals undertake a comprehensive mental health and risk assessment," Defence told News Corp.
The Service Police document entitled 'self-harm and suicide attempts 2008-2014' shows that the army dominates the list with 175 individual incidents followed by navy with 20 and the RAAF with 17.
A total of 174 of the 212 people who committed self-harm were males with 75 of them aged between 26 and 34 years.
The next highest age bracket was 17 to 25 years with 62 instances followed by 35 to 43 years with 50 and just 20 in the 44 to 52 years age group.
The highest rank involved was a RAAF Wing Commander followed by an Army Major and several Captains while there were a number of Warrant Officers and Sergeants included in the disturbing statistics.
The number of incidents varies each year with last year's total of 58 a major increase on the 25 in 2013 which was a drop on the 2012 result of 37 and 35 in 2011.
Vice-chief of Defence Vice-Admiral Ray Griggs told News Corp that Defence was
very concerned about suicide and self-harm and had devoted resources, personnel and training to mental health issues.
He said while not all self-harm incidents were suicide attempts, all reports were considered serious and appropriately assessed and managed.
Vice Admiral Griggs said the military had a strong commitment to mental health and especially overcoming the stigma attached to issues such as depression and post-traumatic stress.
"I think we [Defence] are at the forefront of what is a truly national challenge," he said.
Defence research shows that military personnel had a higher rate of suicidal thoughts but a lower rate of suicide than the general community.
Clinical Director at the SouthPacific PrivateHospital in Sydney Dr Ben Teoh treats damaged veterans and he said he was seeing a growing number from Afghanistan suffering from chronic Post Traumatic Stress Disorder (PTSD).
He said many were not getting the support they needed and if not treated they could develop severe depression and become suicidal particularly if they were disinhibited by drugs or alcohol.
"They are not getting better so they feel people do not appreciate the severity of their condition and they have a sense of hopelessness," he said.
"Many are very angry and anger is directly related to suicide."
Dr Teoh said the constant worry about being shot by both the enemy and the Afghan soldiers they were training had preyed on the minds of many veterans and made their circumstances very traumatic.
"They can't distinguish between the enemy and peaceful people. My concern is that they might act on it."
SELF-HARM IN DEFENCE:
2008 (six months) = 7
2009 = 21
2010 = 29
2011 = 35
2012 = 37
2013 = 25
2014 = 58
By age group:
17-25 years = 62
26-34 = 75
35-43 = 50
44-52 = 20
53 plus = 5
By service:
Army = 175
Navy = 20
RAAF= 17
Originally published as Defence's secret self-harm list
——————————————————–